CORONA VIRUS UPDATE: MOLD INSPECTIONS ARE ESSENTIAL SERVICES
September 2021| Boca Raton, Florida
RCI Home and Mold Inspections extends well wishes and encourages our community to stay safe and healthy during this unprecedented epidemic. We want you to know that mold is considered a serious health risk and mold inspections fall in to the category of Essential Services. Our licensed inspectors wear the appropriate Personal Protection Equipment (PPE) to every home and mold inspection and health & safety is a top priority for our team. During a home or mold inspection, we can or do use 3M Respirators and/or N95 masks, gloves, booties, and when appropriate Tyvek hazmat suits. We employ social distancing and PPE to ensure that our inspections are done properly and in accordance with best practices. You are welcome to call with questions or concerns regarding your home or business mold inspection needs.
South Florida Storm Trends for 2021
September 2021| Boca Raton, Florida
NOAA Predicts Another Active Atlantic Hurricane Season.
The end of August saw a devastating storm impact New Orleans and the Gulf Coast of Louisiana and Mississippi, signaling to Florida residents that we are coming into the peak of another above-average hurricane season 2021. As we move into September, we are carefully monitoring and preparing for storms that roll off the African continent. Even without a direct hit, hurricanes and tropical storms produce a significant amount of water damage in South Florida and RCI Home and Mold Inspections is positioned to assist homeowners and businesses throughout the summer and fall. As an independent mold inspection company in Boca Raton, we evaluate and test homes and businesses both immediately after storm damage and again after the repairs are done. As licensed Florida home inspectors, we also work with potential home buyers and realtors who are keen to have thorough home inspections completed before transacting the sale of a home. From the age and condition of the roof and air conditioning system, to a trained eye for signs of water intrusion or damage on ceilings and walls, RCI home inspectors put decades of experience behind our home inspection reports.
Each year meteorologists at NOAA and Colorado State University produce pre-season and mid-season forecasts for hurricane season. During our winter months, the hurricane pre-season prediction focuses on whether there is an El Niño present or expected to develop. An El Niño is a global weather pattern that forms along the equator in the Pacific Ocean and, in a strong El Niño year, Florida has a tendency to see fewer hurricanes as the atmospheric wind patterns of El Niño negatively impact storms developing in the Atlantic Basin.
For 2021, the mid-season forecast is predicting an above average hurricane season, with an estimated 15 to 21 named storms, 7-10 hurricanes, and 3-5 major hurricanes. Even if South Florida does not see a landfall, our communities will surely see storms with heavy rain, lightening and damaging winds at times throughout the summer and fall of this year.
Thunderstorm damage, heat, and humidity.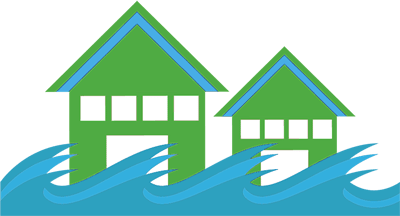 A powerful summer thunderstorm can pack roof-damaging winds any day of the week in Florida. Our mold inspection team wants renters, home owners and business to know the facts about mold, mildew and the implication for health and property safety. Mold and mildew growth takes hold within 24-48 hours in a warm, wet environment. Most of us experienced at least 24 hours without power and AC during this storm, so as we dry out and recover from storm conditions, most homes and businesses are as risk of mold and mildew related issues.
The role of an independent mold inspector
As insurance claims and home repairs get underway, it is critical that homeowners, businesses and renters ensure that the water damage and mold remediation is done properly. RCI Home and Mold Inspection Boca Raton works independently from insurance claims processors and mold remediation companies. After inspection and testing, our mold inspectors produce a report that outlines a specific plan for proper remediation of mold and mildew. This plan follows stringent industry standards for mold remediation and your restoration company or general contractor can use this report as part of the blueprint for making your home or business whole again.
When to request a mold inspection and testing?
In the case of prolonged power outages, humidity can build up in your home or business. Testing for mold can give you peace of mind and alert you to ongoing damage to your structure and health.
Before and after remediation and restoration. Starting with a mold test will help identify the extent of the problem as well as what types of mold are present. It's important to know if moisture, mildew and mold have moved beyond the visibly impacted areas to places that you cannot easily see, like your AC system, or inside your walls. It is not uncommon for people to discover problems like black mold and mildew months after the original date of loss.
After restoration work in complete, insurance loss adjusters will be keen to settle your claim. Often they have contracted the remediation company for you and are mindful of getting the job done fast and economically. Independent follow up inspection and testing is critical to making sure the job has been done properly. Protect your investment and your health.